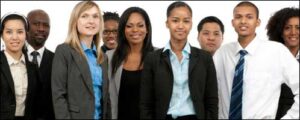 The ESG team offers over 26 years collective expertise with some of the largest recruiting firms in the world working with a diverse talent pool from staff level to executive level professionals.Our expertise in recruiting extends to Finance, Accounting, Data Analysis, Supply-Chain/Logistics and Sales.
Why We Are Different
ESG Consulting offers a uniquely personal experience for clients and candidates by utilizing a sophisticated approach to the life-changing event of changing careers. We do this by bringing together exceptional talent and forward thinking, desirable organizations.
Candidates We Serve
If you are a high-achieving professional with years of quantifiable experience looking for your next opportunity to grow professionally, there are open available opportunities we can offer immediately. ESG Consulting will also work directly with you and help find exactly what you are looking for by utilizing our extensive list of connections established through years of networking and successfully cultivating mutually beneficial relationships.
Clients We Serve
ESG consultants guarantees we will make the necessary commitment to source the right candidates for your most pressing needs by working directly with the decision makers involved in this process. It is essential to not only find candidates that match all the technical boxes but to create a trust and understanding to present those unique individuals that fit culturally within your organization.