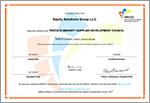 A certified MBE with headquarters in Lexington, Kentucky, Equity Solutions Group, LLC (ESG), is a strategic sourcing firm with an emphasis on expense reduction while ensuring competitive participation from qualified diverse businesses.
Our Approach
ESG has the ideas, resources and strategic business solutions that are just right for your company. Our unique approaches to supplier diversification and inclusion enable our clients to enhance and expand their supplier base to ensure that they never fall short of their commitment to provide the highest-quality goods and services to their customers.

More than two decades of experience in various manufacturing and service industries worldwide enables us to develop a framework for providing strategic solutions in most environments and situations.
"ESG was able to deliver quantifiable results which had a positive impact to our bottom line while consolidating our supplier base and increasing our spend with diverse suppliers."